Wrong Number (Previous Entry) | Runaway (Next Entry)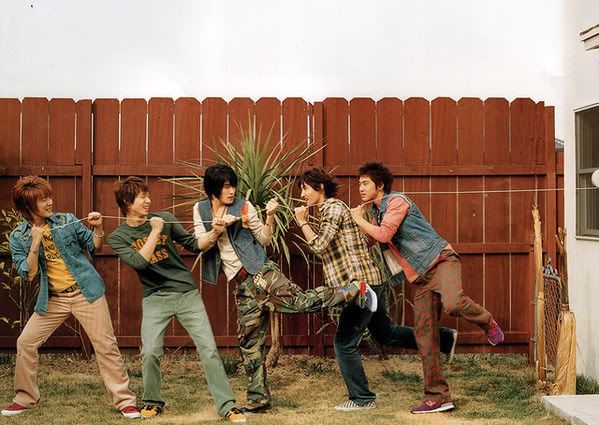 TVXQ FACTS
1.
In the 9th episode of Explorers Of The Human Body which in the episode TVXQ were guests to challenge on their reflexes along with Super Junior, in the opening the MC Shin Dong Yup mentioned that the group was suppose to debut with the name Oh Jang Yook Bu which literally means the 6 internal organs of the human body in which Yun Ho further explained that their producer gave them that name because like the six internal organs, TVXQ together were very importan
t.

2. In several interviews TVXQ has mentioned that when they are in Korea they are called by their real names (Dong Bang Shin Ki) and they follow the ways of the Koreans like they are, but when they are in Japan they are known as Tohoshinki and will do how the Japanese do (i.e. words, gestures and many many more) and when they are in China they are known as Tong Vfang Xien Qi and they will do how the Chinese do.

3. TVXQ's fan club name Cassiopeia was originally derived from the alignment of the stars, in which TVXQ represents that together they grow and together they are a family and the fans being the reason for everything they have and where they are now.

4. In a video true YouTube and an article in a Korean Entertainment website it was mentioned that Jae Joong has said several times that he was nothing without Cassiopeia, in which he mentioned this while he was drunk and being helped out to get a cab by his fans out in the streets where he kept mentioning that he was nothing without Cassiopeia and that he loved Cassiopeia, he confirmed the following day that he really meant everything he said even if he was drunk.

5. Chang Min literally lost his first kiss to Jae Joong. According to them, Jae Joong went to the car to get Chang Min and he saw Chang Min asleep. Aside from the fact that Jae Joong couldn't wake him up by a simple shake or call Jae Joong mentioned that he just had the urge to kiss Chang Min. After the kiss Chang Min ran out of the car and washed his mouth. Yun Ho said that by the time Chang Min got back to the car he was crying.

6. Continuation to the one above, Chang Min added that he wanted to save his first ever kiss during his wedding day, towards the woman he was willing to spend his life with.

7. Jae Joong has coke phobia. This was due to his trainee days when he had less money and needed to take various odd jobs and there happened to be a coke drinking contest. Jae Joong drank too much and fainted and ever since then hasn't drank a single sip or drop of coke.

8. Jae Joong mentioned before that he wanted to own a supermarket so he could eat all the cookies and keep it to himself.

9. Yun Ho was once poisoned by an anti fan. The anti fan sent him a bottle of juice with latex glue covered over the tip (where you drink) and this caused Yun Ho to get sent to the hospital immediately. The police caught the anti fan but Yun Ho decided to dismiss the charges due to the fact that the anti fan happens to be the same age as his younger and only sister, Jung Ji Hye.

10. Although Jae Joong is older than Yun Ho, a lot of people tend to mistake Yun Ho for being the oldest because he stood as the leader of the group like any other group.

11. Even though Yoo Chun speaks straight English without any accent, he confessed in a TV show that he seemed only good at it because he was good at pronouncing English words, but in reality, his English was not good at all. (In the interview it also seemed like he was having a hard time communicating with the American who has conducting the interview as well but his pronunciation was good.)

12. On the same show, Jun Su was saying how Japan, Korea and America pronounced Virginia (Yoo Chun's hometown back in America.) He said that in Japan it was pronounced as Ba-Gi-Nia and in Korea it was pronounced Bu-Gi-Nia and he tried to pronounce it the way Americans did but ended up stopping at Vir because Yoo Chun suddenly laughed at him and Jun Su then said "I told you it was so hard to pronounce."

13. Even though Jae Joong is the member of TVXQ with the most number of fans, during his first year as a member of TVXQ he never had much fans and was even thought of being kicked out of TVXQ by the Cassiopeians from before because they found him arrogant and selfish only because of the way he looked and because he talked less int he past.

14. Concluding to the fact above, in their first fan signing nobody lined up for Jae Joong's autograph that their manager/PD had to pull fans from Yun Ho and Chang Min's line to be placed on Jae Joong's line.

15. Jun Su has a twin brother named Jun Ho who is also now a singer.

16. Jun Su was given the name Jun Su because according to his father, when he and Jun Ho were born, Jun Ho looked more masculine and Jun Su looked pretty which was why he was given the name Jun Su and his twin was given the name Jun Ho. (Which turned out to be true since Jun Ho does look more masculine and Jun Su simply looks pretty.)

17. Yun Ho has one younger sister named Jung Ji Hye whom he claims as one of his precious treasures in the world.

18. Chang Min has two younger sisters named Shim Soo Yeon and Shim Ji Yeon.

19. Yoo Chun has one younger brother named Park "Ricky" Yoo Hwan.

20. Jae Joong has 7 sisters from his adopted family, while he has one real sister from both his biological parents and has one half brother from his father's side. (It's hard to name all his sisters and I'm sure you know who they are by now.)

21. You can tell the difference of Jun Su and Jun Ho by their eyebrows.

22. Chang Min and his two sisters smile the same way and have the same nose.

23. Yoo Chun and Yoo Hwan look alike especially with their smile as their cheekbones tend to show up.

24. Yun Ho and his sister's most big resemblance is their cute big eye pupils that when you look at it, it seems like they are wearing contact lenses when they aren't.

25. Among Jae Joong's 7 sisters from his adopted family's side, his one real sister from his biological parents and his half brother, Jae Joong had the best outcome when it came to looks, as he is being told as the prettiest of all the girls.

26. Even though it's true, Jae Joong hates being called pretty, as he says that he wants to be seen as masculine and handsome.

27. Yun Ho is known to be the best rapper and dancer of the group.

28. When Yoo Chun dances, it looks as if he is too aggressive but despite that funny fact he is a great singer when trying to hit high pitches and rapping.

29. Even though his voice is not the best, Chang Min has the best scream in their songs.

30. Jae Joong is one of the best leader singers of TVXQ because his voice was sought out to be relaxing and gentle.

31. Jun Su is one of the best singers, as though he claims that his voice changed from the day of his debut.

32. Jae Joong mentioned in the past that he had a really horrible voice (he was deaf-toned) and that his friends mocked and or teased him when he told them he wanted to become a singer. (Which by now are probably feeling really bad because Jae Joong turned out to be one of the best singers and he should have gloated by his friends' faces by now.)

33. During Jun Su's trainee days, a couple of months before his debut his adolescence period came causing his voice to change, Jun Su became terrified that it wouldn't be back to normal and ever since then he kept a promise to take better care of his voice. He does not drink carbonated drinks but nutritious drinks only. (But I'm sure from time to time he drinks carbonated drinks.)

34. Jae Joong explained that he broke up with his one and only girlfriend in the past due to his busyness because of his training period but claimed in the past that he sees her from time to time as friends now.

35. Yun Ho has had 2 girlfriends from the past but the shortest was his 2nd girlfriend which only lasted for 2 weeks according to him.

36. Jun Su had a girlfriend back in high school but they broke up quickly after that.

37. Yoo Chun dated a girl named Park Ga Hee from the girl group After School when he was still a SM trainee.

38. There are over a million of embarrassing things that have happened to TVXQ.

39. While doing a performance, Yun Ho forgot to zip his pants' zipper up so while singing he was trying his best to zip them up.

40. While waving and saying goodbye to the fans Jae Joong accidentally fell down from the inside of the stage's run way.

41. Yoo Chun snorted while laughing in one of their performances which caused him to blush massively from embarrassment.

42. Jun Su lost his shoe in one of their performances and Yun Ho just looked at it.

43. Chang Min fell asleep on stage once when all the other members of TVXQ got off and he was standing there with his head bowed down that one of the staff members had to run up on stage and call him.

44. While the stage was bringing TVXQ down after a performance, Chang Min was waving goodbye to his fans with two hands and in a slow-motion like, he slowly fell to the ground and Yun Ho helped him up first.

45. Jae Joong constantly bickers at the other members when they don't clean, as he doesn't like seeing litters.

46. Jae Joong can cook over 15+ meals.

47. Chang Min is the smartest and most mature thinking member of TVXQ even though he is the youngest. His smarts probably coming from his parents who are both teachers.

48. Yun Ho's parents were fighting to win as school president but ended up falling in love.

49. Yun Ho is the member with the fastest reflex.

50. Jun Su is nicknamed Dolphin and Duck Butt. Dolphin because of his squeaks and Duck Butt because of his butt.

51. When looking at Jun Su sideways, you'll notice he has an S line body figure.

52. Jae Joong actually dislikes showing his body in public, but because he is known as the member with the best body, he has no choice but to show it off. (Don't worry, everyone loves it.)

53. Yoo Chun's parents divorced when he and Yoo Hwan were younger.

54. When Yoo Chun moved to Seoul, Yoo Hwan came along and while living with him, one night Yoo Chun thought that his brother was asleep until he saw him fidgeting and found out that he was actually crying.

55. Yoo Chun's mom runs his Crebue(sp?) shop.

56. When you enter Yoo Chun's shop you were Mickey Mouse slippers :))

57. When TVXQ guest starred in Explorers Of The Human Body they were asked to eat the hottest pepper (Indian Jolokia Peppers which is 100 times hotter than the other two peppers.) and they ate it with ease and surprised MC Shin Dong Yup and the members of Super Junior. Jae Joong even mentioned that it would go great with a dish.

58. All members of TVXQ have played sports. Yun Ho took up Hapkido which is the Korean Martial Arts up to the 3rd level and also plays soccer. Jae Joong played Badminton in the past (which come to think of it is cute kekeke~). Jun Su played soccer for a year as well as baseball for a year too and was a black belt in Taekwondo. Yoo Chun was runner (this was hard to believe since he is the laziest member but then again his body figure proves otherwise.) and Chang Min played table tennis and was a runner too.

59. Jun Su is known to be the member with the best aegyos (cute acts) in the group.

60. Jae Joong is known as the hottest member of TVXQ since he is always the one that catches the attention of the crowd and due to his increasing number of fan bases.

61. Yun Ho is known as the oppa (brother) and father figure of the group.

62. Chang Min is known for having the best smile in the group.

63. Yoo Chun is also known for his smile as well as being the laziest member of the group.

64. TVXQ literally means Gods Of The East.

65. Their fan club name in Japan is called Big East.

66. Jae Joong is close friends with SS501's Heo Young Saeng, considering Young Saeng trained under SM Entertainment before moving to DSP Entertainment.

67. Jae Joong met Kim Hyun Joong of SS501 through another SS501 member whom happens to be Heo Young Saeng, Jae Joong's close friend.

68. Jae Joong is best friends with T.O.P. (Choi Seung Hyun) from Big Bang, Heo Young Saeng and Kim Hyun Joong of SS501 and Park Yoo Chun of his own group as they tend to call each other up in the wee hours of the morning and drink Soju together.

69. Heo Young Saeng onced mentioned that Kim Hyun Joong stole his best friend Jae Joong from him.

70. Jae Joong likes unique underwear. (I know what you're thinking. Don't say it.)

71.TVXQ are originally an Acapella group.

72. When they sing ballads or acapellas, their voices blend and harmonize well together even though they are completely different in farther ways.

73. Even though Chang Min has a voice-break, it happens to be one of the best things that help him have the best scream in numerous songs such as Ju Mun (Mirotic) & Rising Sun.

74. Jae Joong injured his leg during their promotions of Rising Sun.

75. Because of that injured leg, in the music video Jae Joong was replaced by one of the back-up dancers who wore a mask in the video and pretended to be Jae Joong.

76. Due to that fact, when they performed Rising Sun lived they all wore masks.

77. Jae Joong was able to make it to their concert even after just a couple of days from his accident.

78. The doctor once mentioned that if Jae Joong had an injury like that again, he won't be able to dance anymore. (Which is a big fat lie because my friend's father who is a doctor explained that it wasn't going to turn out like that.)

79. There have been numerous Cassiopeians who would describe Chang Min's face as adorable and have touched it and ran away screaming like crazy without saying a word to Chang Min.

80. Even though he has only started acting, compared to Jae Joong, Chang Min happens to be the best actor of the group.

81. Yun Ho says that he sleeps diagonally, which Jun Su confirmed.

82. Chang Min is not one of the best dancer's of the group but he happens to be the best choreography of the group.

83. Jun Su loves to pop (poppin' dance.)

84. All members of TVXQ are modest about their skills and achievements.

85. Although the laziest, Yoo Chun is the most hyper member of the group.

86. Chang Min is good at tongue twisters (you can see this in the 2nd episode of TVXQ's Banjun Drama.)

87. Even though there are those who are not into TVXQ, speaking in an honest manner, even anti fans said that TVXQ had songs that are really attaching.

88. Chang Min eats over 7-8 meals a day.

89. In the past, every midnight Chang Min and Yoo Chun would get up to eat. Once Yoo Chun didn't wake Chang Min up, Chang Min nagged him the following day and Yoo Chun never dared to repeat that mistake again.

90. Chang Min always apologizes even if he has done nothing wrong.

91. Chang Min tends to cry if he doesn't get the song right or he doesn't perform well.

92. Chang Min always tries his best that he pushes himself too hard sometimes.

93. Chang Min mentioned that he was not going to pierce his ears because he didn't want to taint the body that his parents and God created but he ended up piercing it anyway.

94. Yoo Chun and Jae Joong have permanent tattoos.

95. Jae Joong's back has a tattoo that has Dong Bang Shin Ki written on it.

96. Chang Min has the tendency to always say he isn't good enough or he isn't the best or that he is the one with less talent in the group. (For short he loves to degrade himself.)

97. All members actually need glasses and all of them actually look good in them, most especially Jae Joong and Yun Ho.

98. Chang Min's ideal girl is one who can speak English and take care of him.

99. Chang Min is fascinated by people who speak English (i.e. Yoo Chun.)

100. Jae Joong's ideal girl is someone who looks innocent on the outside but is actually dirty on the inside. (Like himself. Sort of.)

101. Yun Ho's ideal girl is someone who is charismatic like him, can dance a little and is always there for him.

102. Jun Su's ideal girl is someone who will appreciate him.

103. Yoo Chun said that he would date any girl who would treat him well.

104. Yoo Chun collects over a lot of hats and CDs (CDs were shown in DBSK's House Tour where they were showing the living room and pointed with his thumb the collection of CDs he had.)

105. Chang Min is jealous of Yoo Chun's CD collection.

106. Yoo Chunn loves fan letters, thus, wants more of them.

107. After filming the 2nd episode of DBSK's Banjun Drama called Dangerous Love Jae Joong and Yun Ho didn't speak to each other for 3 days because of the story's plot. The plot was about Jae Joong reading a fan fic about him and Yun Ho being gay for each other and that Yun Ho was becoming nice to him that Jae Joong thought Yun Ho really liked him but it turned out it was because Yun Ho accidentally broke Jae Joong's most prized possession, his camera.

108. In Jae Joong's contacts on his phone, all of the members have our/my before their names. (i.e. our/my Jun Su, our/my Yoo Chun and our/my Chang Min.) But when it comes to Yun Ho's name, it was written as our/my lovely Yun Ho.

109. Even though he know he is hot, Jae Joong doesn't like showing it off or flaunting it.

110. When Yun Ho and Jae Joong ended up having the same ideal girl, Jae Joong begged on his knees for Yun Ho pick someone else.

111. When Chang Min instantly won against Jae Joong in a game of Rock, Paper, Scissors he quickly and begged for a rematch that he held onto Chang Min who was walking away and yelled out Sensei (which means TEACHER in Japanese.)

112. Yun Ho and Jae Joong had a flexing competition before.

113. TVXQ members have their own day. (Just like National Heroes.)

114. Jun Su loves to put emoticons on his text messages to his mother.

115. Jae Joong's adoptive mother is close with Yoo Chun as she treats him as if he was her own son.

116. Jae Joong tries his best to speak English.

117. Jun Su has begged Yoo Chun to teach him English but every time Jun Su would try it out on the rest of TVXQ they would end up laughing and Jun Su finds out that Yoo Chun made him look stupid. (Like when he thought Jun Su to say Yo yo yo homies wazzup? in front of the other members who burst out laughing.)

118. Yun Ho hates speaking in English because he finds it very very difficult.

119. Chang Min tends to practice English when he is alone in the room with the mirror.

120. Jae Joong has a feminine side.

121. Yoo Chun was very happy when Korea scored a goal in soccer, he ended up jumping into Chang Min's arms.

122. Yoo Chun got mad when Korea lost a score in soccer to another country he overreacted and was banging his head against glass.

123. The members had to carry Yoo Chun in one of their photo shoots that Chang Min nearly killed him by dropping Yoo Chun to the ground by accident.

124. They are a complete huge success in Japan.

125. TVXQ has broken 2 Guinness World records, those being in 2008 when TVXQ gained over 800,000 members of their fan club Cassiopeia in South Korea alone. (Imagine those in the other countries like me.) And the other one being from the day of their debut in December 26, 2003 until March 9, 2009 when they had an estimated 500 million pictures taken of them (this didn't include fan taken or public photos.)

126. They had about 3 tentative names which were
O Jang Yukbu
(
오장육부
literally
The Five
Visceras
), Jeonseoleul Meokgo Saneun Gorae (
전설을 먹고 사는 고래
literally A Whale That Eats Legends), and Dong Bang Bul Pae (
동방불패
, the Korean title of
Ashes of Time
). They decided on Dong Bang Bul Pae; however, the name was rejected because the
Hanja
was not aesthetically pleasing, and the name was changed to Dong Bang Shin Gi, which was named by
Lee Soo Man
's acquaintance
(Lee Soo Man is SM Entertainment's founder and he has resigned as of 2010)


127.
Chang Min strike a wrong note on Magic Castle and Yun Ho ended up looking at him.

128. During their The Way U Are concert, Jun Su was back tracking and crashed into Jae Joong.

129. They dances to Britney Spear's song Toxic.

130. Chang Min actually knows Teletubbies (Which is one of the most favorite shows XD) and pronounces it as Teletoobies.

131. When Jae Joong says Number Two it burns the heart of his fans.

132. Jae Joong pronounces Bisco In Couple as Bisco In Com-Pluh.

133. When Jae Joong was younger he wore his pants up to his chest.

134. Yoo Chun's favorite phrase is suicide.

135. Chang Min slept on top of Yoo Chun in their house tour.

136. How Jun Su and Yoo Chun, Yun Ho and Jae Joong pretended to get married.

137. When Yun Ho and Jae Joong pretended to kiss, they put their heads together and Yun Ho whacked his head on Jae Joong's and Jae Joong calld him a rock head.

138. Jae Joong tripped in the episode The King's Man and made the King fall off the stairs, literally.

139. On the same show, Chang Min had to wham his head towards the gong around 10+ times and finally got mad about hitting his head there.

140. Jun Su was the only member who did not make a single mistake.

141. Even though it can't be seen much, Yun Ho tends to rub Jae Joong's thigh. (I don't want to know why that seems personal.)

142. Yun Ho lost in the pirate game thing and everyone had to hit him and Chang Min ended up whacking him.

143. Chang Min was being arrogant when he won against Jae Joong instantly in the game of Rock, Paper, Scissors.

144. Chang Min was fascinated by the light up pen.

145. Yoo Chun was fascinated by the same pen that he took it from Chang Min and Chang Min stole it back.

146. Jae Joong tends to open his mouth sometimes in photo shoots.

147. Jae Joong's habit of sticking his tongue out during or after live performances.

148. Jae Joong loves to lick his lips during performances but doesn't mean it to make the crowd wild but because his lips are getting dry.

149. Jae Joong kissed Yun Ho's cheek when they all lipsynched
to their debut song HUG.

150. In one of the live performances all of the members stayed in front of Chang Min and took all his turns.

151. Yoo Chun derived his stage name Micky from the English name given to him when he lived in America.

152. Jae Joong picked the stage name Hero because he wanted to be the hero of the entertainment industry.

153. Yun Ho picked the stage name U-Know because it meant that when he meets you he would instantly know you and you would know him.

154. Chang Min had pick the stage name Max because he wanted to show the maximum limit of his talent and not because of that other reason.

155. Jun Su picked the stage name Xiah which he derived from Asia (A-SIA) because he wanted to be known throughout Asia. (And now he is also known outside of Asia :D)

156. When they were asked which part of their body the fans would like the best they laughed and got all shy and Jae Joong answered for Chang Min saying that they would love his long legs.

157. When Yoo Chun says he isn't cute and people end up saying he is he'll suddenly change his mind about what he said.

158. Jae Joong was mistaken as a hot girl several times by those who are not aware of him. (Such as some elders)

159. Jae Joong's birthmark is on his neck on the left side.

160. Chang Min has admitted to having bad fashion sense.

161. Jae Joong says that he feels like a woman every time Yun Ho touches him. (I so love this fact.)

162. Since Jae Joong didn't have much food back then, he donated blood for the cookies the hospital was giving to those who donated because he didn't have much money back then. (How lucky those people are to receive Jae Joong's blood and have it inside of them.. I need blood and I'm heading to KR for Jae's blood XD)

163. Yun Ho, Chang Min, Yoo Chun and Jun Su have their armpit hair growing fine while Jae Joong barely has any growing. In an interview he even mentioned that he shaved it all off once so it would grow but nothing changed.

164. Jae Joong was a Chinese Soldier extra in the movie Tae Guk Gi (The Brotherhood of War).

165. Even though the other members find it annoying sometimes, Jae Joong still continues to do what he does, by texting the members non-stop because he feels worried about them all the time. (Now you see why he's the mother of TVXQ.)

166. Before debut, Chang Min and Jae Joong shared an incident in the past when Jae Joong bought Kim Ki Bum (Super Junior) and Chang Min alcohol but were caught by their manager. (They shared this in Xman Special #69 Episodes 151 and 152, it was mentioned during the game Of Course.)

167. Considering Chang Min is the best swimmer of the group, Jae Joong is the one who is most afraid of water only because he can't swim. *splashes water on Jae* >=D LOL

168. Jae Joong has the tendency of wearing his ring on his fourth finger (on either sides) and feels uncomfortable when it is on the other fingers such as his thumb or pinky.

169. Yoo Chun and Jae Joong are the two members of TVXQ who were able to teach themselves to play the piano alone.

170. All members of TVXQ love taking visits to the Han River but Jae Joong was the only one whom shared that he enjoys going there to relieve stress and listen to music as well as going on a date with his ideal girl there.

171. Yoo Chun and Jae Joong share each others clothes.

172. Yoo Chun and Jae Joong get to pick the costumes way before the other members can and Jun Su finds it unfair and constantly complains about it.

173. Jae Joong has confessed to not trusting himself when it comes to dating women younger than him because he has never taken care of a girl younger than him (he wasn't able to spend much time with his younger sister) But oppa, what about me? D:

174. Only dates women his age or older. (This hurts me bad.)

175. Jae Joong loves the mirror (I can't see why)

176. Jae Joong had his room colored black before because he loved the color.

177. Jae Joong wanted to visit Switzerland (so do I, let's go together XD)

178. Jae Joong likes beaches and rivers (sorry if I keep talking about Jae Joong facts, its just that Jae Joong shares more about himself rather than the other members, so much for being quiet right? LOL)

179. Chang Min and Jae Joong are both shy but Jae Joong is sensitive but Chang Min has proven his sensitivity when he cried in the past about them winning an award for their 4th Album Mirotic.

180. When Jae Joong and Yun Ho had a huge fight in the past, Chang Min tried to break the fight along with Yoo Chun but they wouldn't budge so Jun Su ended up crying and the two of them stopped fighting.

181. Chang Min is pretty much the smartest member of the group but Jae Joong was really good in his History class in school. (You and me both, I love history it's totally easy.)

182. Jae Joong can't sleep without an eye mask, this is probably due to the fact that he probably sleeps with his eyes open but I haven't seen that so it could possibly be because Jae Joong can still see the light even with his eyes closed (that happens to me which is why I tend to bury my face on the pillow.)

183. Jae Joong has a thing for elephants. (This is awkward but cute)

184. Jae Joong hates loud noises, thus, he sometimes feels like smacking Yoo Chun when he is goofing around with Yun Ho. (i.e. rough housing and playing other boyish games.) fan screams don't count :))

185. Yoo Chun doesn't like being hot (no not physically but in temperature form) so he sleeps with the AC or Fan on when it's winter and the one who has to suffer the cold is Jae Joong because they shared the same room.

186. Jae Joong's mom made conditions about him having a wife/girlfriend before where she mentioned that he had to bring home a baby.

187. Jae Joong has a dog named Vick which is a Great Pyreness which the dog's nickname came from his nickname Visual Shock so he made it shorter which was also something Jun Su suggested.

188. Jae Joong drives two cars, an Audi R8 that is worth $125,000 and a V8 engine producing 420 horsepower and he recently drives in a Bentley Continental GT Convertible which is worth around $180,000 with a W12 engine producing about 552 horsepower.

189. Jae Joong thinks that food presented in a nice way is very delicious. (I think otherwise)

190. Jae Joong was taught to drink by his mother because his father wasn't a strong drinker. (Aigoo, I wish she didn't teach him instead D: but oh well, he'll end up in that phase and so will I and I know it XD)

191. Jae Joong and Jun Su are the two members who love to eat cereal and Jun Su even got mad at Jae Joong once when he ate up the last cereal box.

192. Jae Joong is fast at text messaging while it takes Chang Min a while to finish one word when he gets a new phone. (LOL) And since he texts so fast Yun Ho can't even reply and ends up calling him.

193. Jae Joong watches foreign films and at times he'll fantasize about the female lead. (LOL XD show your face in front of them Jae and they'll fantasize about you like me :D)

194. Jun Su and Jae Joong shares underwear. (That's bad but sexy)

195. Jae Joong tends to take weird pictures of the other members for memories (Yoo Chun hates this)

196. Jae Joong only believed in Santa until the fourth grade. Chang Min called him a kill joy for this.

197. He tends to say awkward things or say random things and bursts out laughing when excited or nervous. (I do that too, I bet so do the others.)

198. Jae Joong is paranoid about what other people think of him which concludes the fact that he covers his mouth when he smiles or laughs and is totally careful about what he wears and what his hair style is.

199. Out of all members of TVXQ Jae Joong has the most celebrity friends. When Yun Ho found out he got a tad jealous.

200. Being thought how to drink which doesn't seem like a bad thing, he's the biggest drinker of the group, which is the bad thing.

201. MC Yoo praises Jae Joong for his variety show quality which concludes his odd personality amongst the members that make him stand out.

202. Jae Joong loves the brands Gucci and Louis Vuitton.

203. Jae Joong says that his face is naturally big (you can see this in his high school picture) which is why he manages his diet so he wouldn't blow up.

204. Jae Joong makes facial expressions in his sleep, Yun Ho moves a lot in his sleep and ends up in awkward positions the next day, Yoo Chun snores in his sleep, Jun Su sleeps with his mouth open and Chang Min sleeps like a normal person. (Now we know who's normal XD)

205. Jae Joong has around 11 piercings in total. 5 on his right ear, 4 on his left ear, 1 on his belly button and 1 on his left nipple. (The last one is sexy.. Very very sexy :D)

206. Jae Joong and BoA are best friends, they talk about their boyfriend/girlfriend ideal types with each other. (For short, they are girlfriends XD)

207. Jae Joong said that he wants to keep a diary from the day he dates his girlfriend till the day they are married so that when they get married they can go and look at it together.

208. Jae Joong wants to keep things simple when he goes on dates with his girlfriend, he finds big things so cheesy. (So do I but it depends actually.)

209. Jae Joong is afraid of heights that when they rode a scary ride in Jae Joong stayed behind.

210. Among all the members Jae Joong is the least one to be worried about because he tends to trim his own hair.

211. Jae Joong endorses clothes such as Polham and many more.

212. Jae Joong admitted to having a crush on his History teacher in the past. (explains why he is also good in history and why he loves the subject lol now I want to become a history teacher and teach Jae some history :D LOL god that sounded so wrong.)

213. Jae Joong tends to take pictures of the members while inside the bathroom.

214. Jae Joong is the noisiest member always calling and texting the other members non-stop.

215. Chang Min got accepted into Kyung Hee University and got to be on the top scoring students in his High School exams.

216. All members of TVXQ love to puff their cheeks on camera.

217. For the photo shoot of Rising Sun they all had to wear leather outfits and Jae Joong joked If we have to go to the restroom we are going to have to take this all off.

218. A fan girl of Jun Su followed him to the bathroom and asked for his autograph and he gave it to the brave fan girl. (I should try that lol)

219. Yun Ho showed his care for fans when he got really mad when a fan was accused for stealing a wallet which ended up being a prank.

220. Chang Min loves to read and watch Harry Potter.

221. TVXQ cried when they got the Rookie Award. (All of them cried, no exceptions lol XD)

222. Chang Min never showed himself getting angry on camera (I don't think he gets mad at all XD)

223. Yun Ho completely fooled Jun Su in a double prank he pulled off before.

224. When Jae Joong pulls of pranks he gets a little too harsh sometimes.

225. Jun Su once tried to imitate Usher's dancing skills and while dancing he hit his mouth hard with his necklace.

226. Chang Min danceed to Usher's song in the past once after watching Jun Su's attempt to imitate Usher.

227. Chang Min beats Yun Ho when it comes to doing the moonwalk.

228. According to Jun Su's twin Jun Ho, Jun Su was always hyper in the past.

229. Once in a show, TVXQ wanted to show their appreciation to fans that Yoo Chun said We wanted to show you how much we appreciated your kindess and support to us and how we could repay you in some kind of way so we decided on this talent show. And then Chang Min added Because we had no money and actually stopped himself from laughing while Yoo Chun burst out in laughter as usual.

230. Chang Min tends to sing his heart out and pat his stomach. (Must be hungry lol)

231. Yoo Chun expressed something in an interview once about his fans and how they were crying for them and he was patting his stomach as well. (This convinces me that these two are partners in crime when it comes to food. Chang Min the big eater and Yoo Chun and the food stealer.)

232. Yoo Chun is known to have the nickname Food Stealer because he tends to take food away from others. (i.e. he grab a bite of Jae Joong's Snickers bar while he was talking on camera and when he looked back on it he noticed that it was too short and looked at Chang Min and he ended up getting blamed.)

233. Jae Joong was feeding the pigeons in France before and he moved away as soon as one of the pigeons were moving up to his ear.

234. When Chang Min was singing Yoo Chun decided to pull a prank and this distracted Chang Min even if he wasn't the target.

235. Yoo Chun has tried to become dorky several times but it ended up as a fail but even him failing is a dorkyness already.

236. Yun Ho attempted to make a shift golf and baseball.

237. Jae Joong fell on his butt several times when he tried to play soccer.

238. Being the tallest, Chang Min is also the highest jumper.

239. Chang Min was forced to dance dirty along with Jun Su and Yoo Chun in one of their concerts in Japan but seemed uncomfortable and was still trying to be polite.

240. Chang Min respects people who are older and younger than him.

241. The boys tried to become ghetto once because of the force that Yoo Chun pulled on them.

242. Among all the members, Jae Joong says aish the most. (AISH!)

243. Whenever Chang Min says annyeong it sounds cute and kiddish that people sometimes think he does that on purpose but it's really how he says it.

244. When Yoo Chun messes up his lines, Yun Ho is always on his tail and mimicking him constantly.

245. In the 1st episode of DBSK's Banjun Drama which was entitled Tokyo Holiday at the very near end of the episode Jun Su kicks an empty can and ends up hitting Yun Ho instead of it going directly into the trashcan.

246. When TVXQ were visiting kids, Chang Min decided on that day he was to wear his skull cap.

247. Jae Joong wore big pants in his audition in the past.

248. Chang Min looked like a child in his audition that made him cute.

249. Among all the members of TVXQ, Jun Su had the best audition video.

250. TVXQ are actually fascinated by their own merchandises.

251. Chang Min is the only member of the group that has never had a girlfriend, until now.

252. When the members are out and Jun Su sees something he likes, he'll suddenly say Hyung, can you get me this? to the other members (even Chang Min who is younger than him.)

253. Jae Joong always hides his smile and laugh with either his hands or papers.

254. When Jun Su was once asked by the cameraman if the food he was eating tasted good, he said yes but Jun Su ended up spitting it out.

255. When DBSK had a strength competition, they had to do the split and when Jae Joong couldn't go all the way down, he pulled down the bottom of his pants (damn hot)

256. When Chang Min tried to do the split he fell and clutched on his thighs and started rolling in agony.

257. When DBSK had to do push ups with girls on their backs Chang Min ended up falling down, Jae Joong did seven push ups and going all the way down, Yun Ho did ten but didn't go all the way down and Yoo Chun told his girl to get off.

258. Yoo Chun's only ideal girl ran away from him. (Ouch)

259. In a show, DBSK told who their ideal celebrity females were and when Jae Joong found out he and Yun Ho had the same he went onto his knees and began to beg Yun Ho to like someone else, when Yun Ho didn't budge he decided to stick to his fans. (Aww :D)

260. Jae Joong's heart was broken by his ideal girl twice. The first one being the fact she got married to her long time boyfriend and the other being Yun Ho liking her and when she revealed that her favorite DBSK member was Yun Ho.

261. When asked how many kids they wanted Chang Min said around 2 to 3, Yoo Chun said one but he doesnn't want to get married and Jae Joong revealed he wanted two boys and one girl while Jun Su said it depends but when Yun Ho said 25 Jae Joong said Do you want to kill her? and Jun Su added Think of your wife! Not only yourself!

262. For the photo shoot of Rising Sun it was a really cold weather which was why they were walking out dramatically and slow the director said cut and they ran back like crazy to get changed.

263. During that photo shoot, Chang Min's ears turned into tomato red.

264. Chang Min pretended to cry and tried to act like a complaining child. He covered his ears with his really long park/coat sleeves then waved them around like floppy arms.

265. In the music video of Break Out! TVXQ's fears were revealed. Jae Joong's part represented two resembling fears, one being that he was afraid to be pulled severely by fans that he and his fans would get hurt and also that his two families (his adopted one and real family) would one day might fight over them. Yun Ho's fear was about being poisoned again like in the past. Yoo Chun's fear is to get married since he isn't ready for it and also because he didn't want what happened to his parents happen to him. Jun Su fears to get old. Chang Min fears about talking to beautiful women who smile at him.

I've been writing for a long time now. My hands and wrist hurt and I have to study so I might make a part two soon, who knows. Hope you enjoyed reading and to those who aren't familiar with TVXQ, I hope this helped you to love them ^__^

빙글빙글 (Feeling/Mood):

Dull

呪文 (Spellbound/Music):

Rainbow by TVXQ